Health Ministries is not only about assisting our members with living healthier, happier lives; it is also about reaching out to the surrounding community.

From demonstrating healthy principles at our Sabbath potluck to offering seminars on smoking cessation and stress free living we want to provide lots of ways for people to lead healthy and happy lives.

 
Contact Information

Health Ministries Leader
Sis. Linda Bradley
Upcoming Events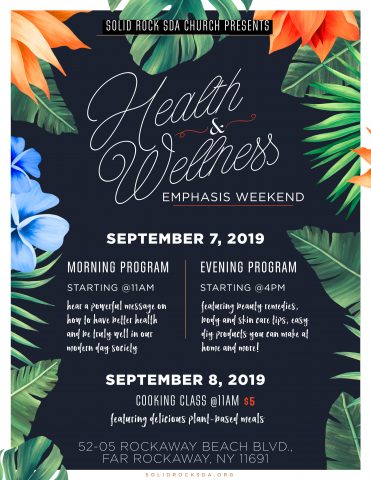 September 7th - Health and Wellness Day
Morning program begins at 11am
Evening program begins at 4pm - featuring diy beauty remedies, skin care tips, hair care tips, diy products you can make at home
September 8th- cooking class!! $5 fee, come and learn how to make healthy and delicious plant based meals
September 15, 2019 - Join us for our annual Walk!
Health Resources

Amazing Health Facts (8 Bible Secrets for a Longer & Stronger Life)